NOW...for the vintage stuff!!!! this material is taken from my private collection of 1940's 16 inch radio transcriptions! these records were what those golden age of radio shows were usually recorded on, as this was before tape!!!! these were HUGE!!! 4 inches wider than a LP, but could only hold about 15 mins a side!!! I have about 300 in my library, including 40 that are commericals. I've heard from people all over the world who have enjoyed them. From helping spice up someone's 60th wedding anniversary to a unique way to help new immigrants to canada help learn to speak english, to people just plain enjoying them. It's great to know people are enjoying them.. I welcome you all and hope you enjoy what's here. E-MAIL ME


To download the mp3 audio for each spot, right click with your mouse on the link of each spot and "save as" or, if your computer's audio player is set up correctly, just click on the link to hear them.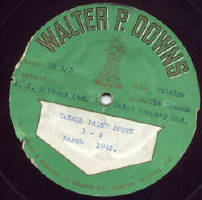 Agency: J J Gibbons Ltd
From March of 1943, Here's a spot talking about paint, with a brief look into the life of a homemaker during World War II, man, talk about stereotypes...well, this was pre feminism I suppose....
Wings Cigarettes (date unknown)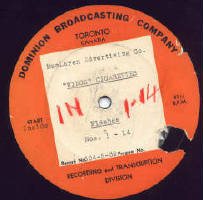 Agency: Maclaren Advertising
Remember when it was in style to smoke a cigarette??? seems it is these days with TV and movies promoting it again, but you still see warnings on packages these days. Back in the 40's, it seemed that advertising promoted smoking as a "cool and hip" lifestyle. as demostrated by these wings cigarettes "flashes" (20 secs and under)
Wartime Prices & Trade Board-Emergency Shelter Admin.(exact date unknown)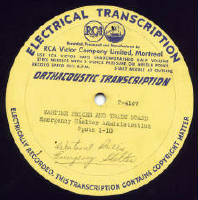 Wartime in Canada, brought some unusual measures, including a restriction on where you lived. You sometimes needed permission to move to a area because of a housing shortage. here's a example of a typical message you might here regarding Emergency Shelter.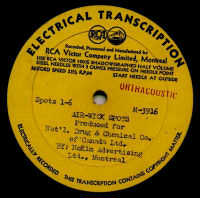 Produced for the National Drug and Chemical Co of Canada By Mckim Advertising Ltd., Montreal
The Airwick Company has been around for HOW LONG??? Apparently quite awhile.. OVER 50 YEARS!! This is a rather cheesy jingle from 1946 about "a great new discovery" called airwick..no doubt the backbone of the whole airwick product line. despite is being quite dated and cheesy, it is extremely CATCHY!!! shows how a simple ad can be quite effective, especially in the 1940's, when jingles were nowhere as common as today.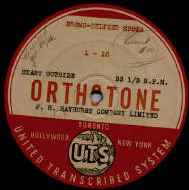 Agency: F.H. Hayhuyst Co. Inc
Speaking of old reliable products that are STILL on the market, here's yet another.. BROMO SELZER which has been doing good to millions of stomachs for over 50 years. This spot is dated received january 1946, so I think it was cut in late 1945. I also think this is a american spot, but can't say for sure, as the disc label says "united transcribed systems" who have offices in Hollywood, New York, and Toronto, so who knows if it was actually done south of the border...regardless...it goes to show you that the basics of ad writing hasn't changed much.
"WESTONS SODA BISCUITS" (1948)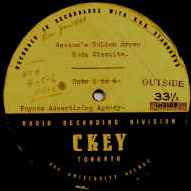 Agency: Poyntz Advertising Agency
cut 1 of 6 of a CKEY label on a presto disc (NO disc #)
Now here's a canadian product! WESTON'S SODA BISCUITS the weston family have been around in canada since pretty much the turn of the century, also producing cookies as well. This is another simple, slightly cheesy radio jingle, but personally I LIKE IT!! sorry about the quality a bit, this disc has seen better days, but i just like the jingle.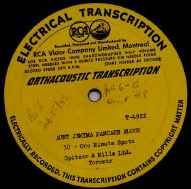 Agency: Spitzer & Mills Ltd. Toronto
(date received on disc: Feb 1947)
This one MAY BE CONSIDERED OFFENSIVE!! in the politically correct world but, this is how the Aunt Jemima radio spots sounded back in 1947!!!! A clip from this spot was used in a CBC national radio documentary some years ago to illustrate stereotypes in the media actually. That was rather interesting!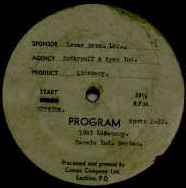 Agency: Ruthrauff & Ryan Inc.
Sponsor: Lever Bros. Ltd.
This one is just plain embarrasing today.....talking about BODY ODOR....Lifebuoy soap!!!! I mean, who yaps about that on tv or radio these days? who dares to? no one! but it does exist!, and this spot handles it quite nicely and humorously...kinda wonder if we are more uptight today or in 1942!!!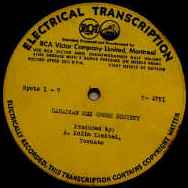 Agency: A. Mckim Ltd. Toronto
exact date unknown
Here's something that might be rare.....circa World War Two, this is a campaign for the Canadian Red Cross as a promotion to promote giving blood....but listen to the announcer in here....it's LORNE GREENE! known as the voice of doom on canadian radio during the war, lorne acted in canadian TV, founded a broadcast school in toronto, and eventually moved to Hollywood to appear as "Pa Cartright" for years in the american western "Bonanza" among other roles such as "Commander Adama" in Battlestar Galactica. this is a example I assume of his freelance work during the war!